Overview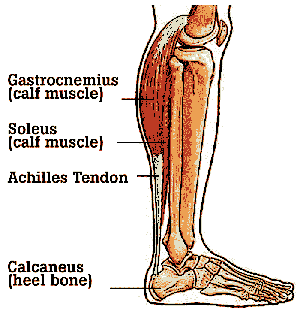 The Achilles is a large tendon that connects two major calf muscles to the back of the heel bone. If this tendon is overworked and tightens, the collagen fibres of the tendon may break, causing inflammation and pain. This can result in scar tissue formation, a type of tissue that does not have the flexibility of tendon tissue. Four types of Achilles injuries exist, 1) Paratendonitis - involves a crackly or crepitus feeling in the tissues surrounding the Achilles tendon. 2) Proliferative Tendinitis - the Achilles tendon thickens as a result of high tension placed on it. 3) Degenerative Tendinitis - a chronic condition where the Achilles tendon is permanently damaged and does not regain its structure. 4) Enthesis - an inflammation at the point where the Achilles tendon inserts into the heel bone.
Causes
Achilles tendinitis is caused by repeated stress to the tendon, not a direct injury. Often times, this can happen from doing too much too soon and not giving your body enough time to rest or adjust to the increase in intensity or amount of exercise. Another contributing factor can be tight calf muscles. Having tight calf muscles and starting an activity can put added stress on the achilles tendon.
Symptoms
Gradual onset of pain and stiffness over the tendon, which may improve with heat or walking and worsen with strenuous activity. Tenderness of the tendon on palpation. There may also be crepitus and swelling. Pain on active movement of the ankle joint. Ultrasound or MRI may be necessary to differentiate tendonitis from a partial tendon rupture.
Diagnosis
Laboratory studies usually are not necessary in evaluating and diagnosing an Achilles tendon rupture or injury, although evaluation may help to rule out some of the other possibilities in the differential diagnosis. Imaging studies. Plain radiography: Radiographs are more useful for ruling out other injuries than for ruling in Achilles tendon ruptures. Ultrasonography: Ultrasonography of the leg and thigh can help to evaluate the possibility of deep venous thrombosis and also can be used to rule out a Baker cyst; in experienced hands, ultrasonography can identify a ruptured Achilles tendon or the signs of tendinosis. Magnetic resonance imaging (MRI): MRI can facilitate definitive diagnosis of a disrupted tendon and can be used to distinguish between paratenonitis, tendinosis, and bursitis.
Nonsurgical Treatment
Supportive shoes and orthotics. Pain from insertional Achilles tendinitis is often helped by certain shoes, as well as orthotic devices. For example, shoes that are softer at the back of the heel can reduce irritation of the tendon. In addition, heel lifts can take some strain off the tendon. Heel lifts are also very helpful for patients with insertional tendinitis because they can move the heel away from the back of the shoe, where rubbing can occur. They also take some strain off the tendon. Like a heel lift, a silicone Achilles sleeve can reduce irritation from the back of a shoe. If your pain is severe, your doctor may recommend a walking boot for a short time. This gives the tendon a chance to rest before any therapy is begun. Extended use of a boot is discouraged, though, because it can weaken your calf muscle. Extracorporeal shockwave therapy (ESWT). During this procedure, high-energy shockwave impulses stimulate the healing process in damaged tendon tissue. ESWT has not shown consistent results and, therefore, is not commonly performed. ESWT is noninvasive-it does not require a surgical incision. Because of the minimal risk involved, ESWT is sometimes tried before surgery is considered.
Surgical Treatment
Mini-Open Achilles Tendon Repair. During a mini-open Achilles tendon repair surgery, 2 to 8 small stab incisions are made to pull the edges of the tendon tear together and suture the torn edges to repair the damage. During this procedure the surgeon will make one 3 to 4 cm long incision on the back of your ankle and 2 to 4 smaller vertical incisions around the long incision. These smaller veritical incisions are made with a pair of surgical scissors and are commonly referred to as "stab incisions". Once the incisions are opened up, the surgeon will place precise sutures with non-absorbable stitches to strengthen the damaged Achilles tendon tissue. This suturing technique reduces the amount of scar tissue on the tendon after surgery and provides better surface healing of the skin. Unlike the traditional method of an open surgery, this procedure has less risks and complications involved. To learn about all risks you may face be sure to speak to your doctor.
Prevention
The following measures can significantly reduce the risk of developing Achilles tendonitis. Adequately stretch and warm up prior to exercise. Warm down and stretch after exercise. Choose footwear carefully and use footwear appropriate to the sport being undertaken. Use orthotic devices in footwear to correctly support the foot. Exercise within fitness levels and follow a sensible exercise programme. Develop strong, flexible calf muscles.