Overview
Heel spurs, or abnormal growths of the heel bone, can cause sharp pains in the heel, especially first thing in the morning and after long periods of rest. In many cases, a heel spur develops as a result of plantar fasciitis, which is the inflammation of the ligament that stretches along the bottom of the foot, from the base of the toes to the heel. In individuals who suffer from plantar fasciitis, the ligament pulls away from the heel as the foot bears weight. In an effort to stabilize the ligament, the body may produce calcium deposits, which can then develop into heel spurs.
Causes
The cause of heel spurs is excessive strain placed on the plantar fascia over a long period of time, as a result of different factors. These factors include incorrect gait, being overweight, ageing or being in a job that requires a lot of standing on hard floors. It is usually a combination of any of these factors that will bring on the development of heel spurs.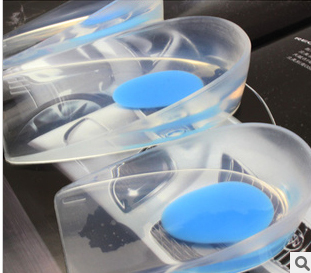 Symptoms
You may or may not experience any symptoms with your heel spurs. It is normally the irritation and inflammation felt in the tissues around your heel spur that cause discomfort. Heel pain is one of the first things you may notice, especially when pushing off the ball of your foot (stretches the plantar fascia). The pain can get worse over time and tends to be stronger in the morning, subsiding throughout the day; although it does return with increased activity. A sharp, poking pain in your heel that feels like you're stepping on a stone can often be felt while standing or walking. You will sometimes be able to feel a bump on the bottom of your heel, and occasionally bruising may appear.
Diagnosis
Heel spurs and plantar fasciitis is usually diagnosed by your physiotherapist or sports doctor based on your symptoms, history and clinical examination. After confirming your heel spur or plantar fasciitis they will investigate WHY you are likely to be predisposed to heel spurs and develop a treatment plan to decrease your chance of future bouts. X-rays will show calcification or bone within the plantar fascia or at its insertion into the calcaneus. This is known as a calcaneal or heel spur. Ultrasound scans and MRI are used to identify any plantar fasciitis tears, inflammation or calcification. Pathology tests may identify spondyloarthritis, which can cause symptoms similar to plantar fasciitis.
Non Surgical Treatment
By reducing excessive motion and controlling and supporting the foot during physical activities an orthotic can help to limit how far the plantar fascia is pulled or torn away from the heel. A Heel Spur pad can be offered- which is a pad designed to take pressure off the spur. If the problem persists, consult your foot doctor.
Surgical Treatment
Surgery is used a very small percentage of the time. It is usually considered after trying non-surgical treatments for at least a year. Plantar fascia release surgery is use to relax the plantar fascia. This surgery is commonly paired with tarsal tunnel release surgery. Surgery is successful for the majority of people.
Prevention
Heel Spur symptoms can be prevented from returning by wearing proper shoes and using customized orthotics and insoles to relieve pressure. It is important to perform your exercises to help keep your foot stretched and relaxed.